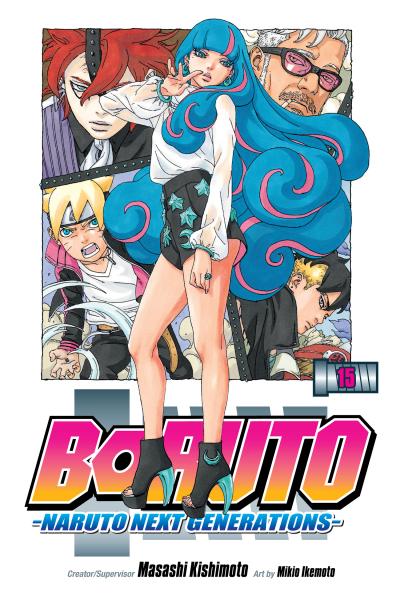 Boruto: Naruto Next Generations
Boruto: Naruto Next Generations is a Japanese manga series written by Ukyō Kodachi and Masashi Kishimoto, and illustrated by Mikio Ikemoto. It began monthly serialization with Kodachi as writer and Kishimoto as editorial supervisor in Shueisha's shōnen manga magazine, Weekly Shōnen Jump, in May 2016 and was transferred to Shueisha's monthly magazine, V Jump, in July 2019. In November 2020 Kodachi stepped down, with Kishimoto taking over as writer. Boruto is a spin-off and a sequel to Kishimoto's Naruto, which follows the exploits of Naruto Uzumaki's son, Boruto Uzumaki, and his ninja team.
Boruto originated from Shueisha's proposal to Kishimoto on making a sequel to Naruto. However, Kishimoto rejected this offer and proposed his former assistant Mikio Ikemoto to draw it; the writer of the film Boruto: Naruto the Movie, Ukyō Kodachi, created the plot. While both Kodachi and Ikemoto are in charge of the manga.
An anime television series adaptation started airing on TV Tokyo on 5 April 2017. Unlike the manga, which began as a retelling of the Boruto film, the anime begins as a prequel set before Boruto and his friends become ninjas in a later story arc. A series of light novels have also been written.
Pierrot's anime prequel also earned praise for its use of both new and returning characters, but the narrative of the manga was noted to be more serious as it focused more on the protagonist. Shueisha has shipped a million copies of the manga series as of January 2017.